admin September 25th, 2018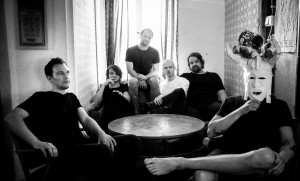 Am Mittwoch, den 26.09., gibt es ab 20 Uhr ganz besondere Töne im Galeriehaus. Die Dresdner Band Sir Robin & The Longbowmen lassen Doors und Eric Burdon klanglich ein gemeinsames Konzert geben. Sphärischer Psych-Rock mit Einflüssen aus den Ecken Progressive und Baroque. Ein Klangerlebnis der Extraklasse! Eintritt 8 Euro.
Sir Robin & The Longbowmen's second full length album "Prozacco" follows in the steps of their self titled debut LP but reflects the ongoing progress and development of the band's very own
sound.
Quiet and delicate, yet boisterous and pushing, variety has become their trademark that runs through the record like a common thread.
The successor symbolizes the continuous search for new influences on the purview of numerous musical styles that are combined to a varied work of Neo Psychedelia.
VIDEOS
IN THE DARK

DEAD HORSE

IANUS
www.youtube.com/watch?v=H_xC2jt7OpU
FULL ALBUM
www.youtube.com/watch?v=vKZpzDhXAZA
BANDCAMP
www.sirrobinandthelongbowmen.bandcamp.com
FACEBOOK
www.facebook.com/sirrobinandthelongbowmen
INSTAGRAM
https://www.instagram.com/sratlbm/
PRESS
SIR ROBIN & THE LONGBOWMEN (2016)
…"This album is as much a journey into the hazy past of psychedelic music as it is into the future of modern adventurous neo-psych…and they bring it all to fruition without pretense or a sense of overbearing, leaving the songs to sound etherial and breezy; one where walls breathe, and trees dance in the moonlight."…
It's Psychedelic Baby Magazine (SLO)
…"This Dresden based seven piece is a fantastic piece of big production psychedelia with traces of baroque pop, contemporary indie and vintage progressive rock coalescing to form a very
diverse, but distinctive whole."…
The Active Listener (NZ)
…"Great melodies played and supported by super talented musicians, superb vocals that strongly remind us of the one and only Jim Morrison, and the insuperable magic of Eric Burdon."… Music From The Basement (GR)
…"Das freundliche Murmeltier vom Coverartwork reicht als spiritueller Seelenpartner für den Trip, den die LONGBOWMEN auf einer guten Dreiviertelstunde bieten, die Pfote, und mit ihm als
Begleiter bleibt das Album eine so spannende wie anregende Erfahrung."…
OxFanzine (GER)