admin November 5th, 2018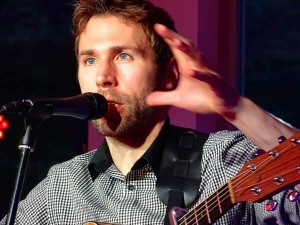 Mit Simon Kempston und Robbie Greig kommt Folk ins Galeriehaus, intensiv und intim gespielt auf Gitarre und Geige.
VVK 7 EUR/AK 8 EUR
Two unique talents arrive in Hof to perform thought-provoking, evocative, original songs in a wonderfully intimate setting. Simon Kempston's beautifully crafted folk-tinged material showcases his incredible, distinctive and intricate fingerstyle guitar work – an exciting blend of the folk-baroque, blues and classical styles, and his gently nuanced, compelling tenor vocals. An inspiring, poetic lyricist, Simon's live performances are intense and impassioned, the subject matter chiefly Scottish, yet with universal appeal. This special Hof concert is in conjunction with leading Scottish fiddle player, 2017 Niel Gow Award winner & BBC Young Trad Musician Finalist of the year Robbie Greig is not to be missed. 'One of Scotland's very best singer-songwriters' (Sunday Herald). 'Stunning talent' (STV). Beautiful tunes, infinitely talented' (BBC Radio 3).