admin Februar 29th, 2012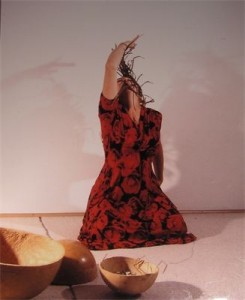 Performance-Künstlerin, interkulturelle Tanzpädagogin begann ihre künstlerische Laufbahn im Afrikanischen Tanztheater "Ballet Kodia" und Fondaction Boris Vian in Paris. Seit über 30 Jahren teilt sie ihre Liebe zur afrikanischen (Tanz-)Kultur mit Musikern, Theaterleuten, Künstlern aus Afrika, Europa und Südamerika. Mit ihrem in Deutschland einmaligen integralem Ansatz verbindet sie die befreienden Strukturen des Afrikanischen Tanzes mit den entspannenden, blockadelösenden Techniken des klassisch indischem Yoga. Sie unterrichet und performt in Deutschland, Frankreich und SeneGambia (Westafrika). 2003 gründete sie das Projekt AFRICUKO – Forum für Afrika-Kunst-Kommunikation – Institut für interkulturelle Tanz & Yogapädagogik. 2010 veranstaltete sie erstmalig in Deutschland den 1. WorldDanceDay – Colours of Africa, in Kooperation mit dem Südpunkt-Bildungshaus Nürnberg.
In der ihr eigenen kreativen Weise verbindet sie in ihrem künstlerisch-pädagogischem Schaffen Darstellende Kunst, Bildende Kunst, Fotografie und Literatur.
Die von M.A.Camara anlässlich des WorldDanceDay 2010 konzipierte Fotoausstellung The Healing Art of African Dance wird nunmehr nach Stationen wie Südpunkt Nürnberg und Atelier I, Kunstgalerie Klemens Wuttke zum dritten Male in Franken präsentiert.
Für die Fotoausstellung im Galeriehaus Weinelt, Hof zeigt Monika Adele Camara ausgewählte Stücke eigenen Foto-Materials bzw. Performance-Dokumentationen befreundeter Fotografen.